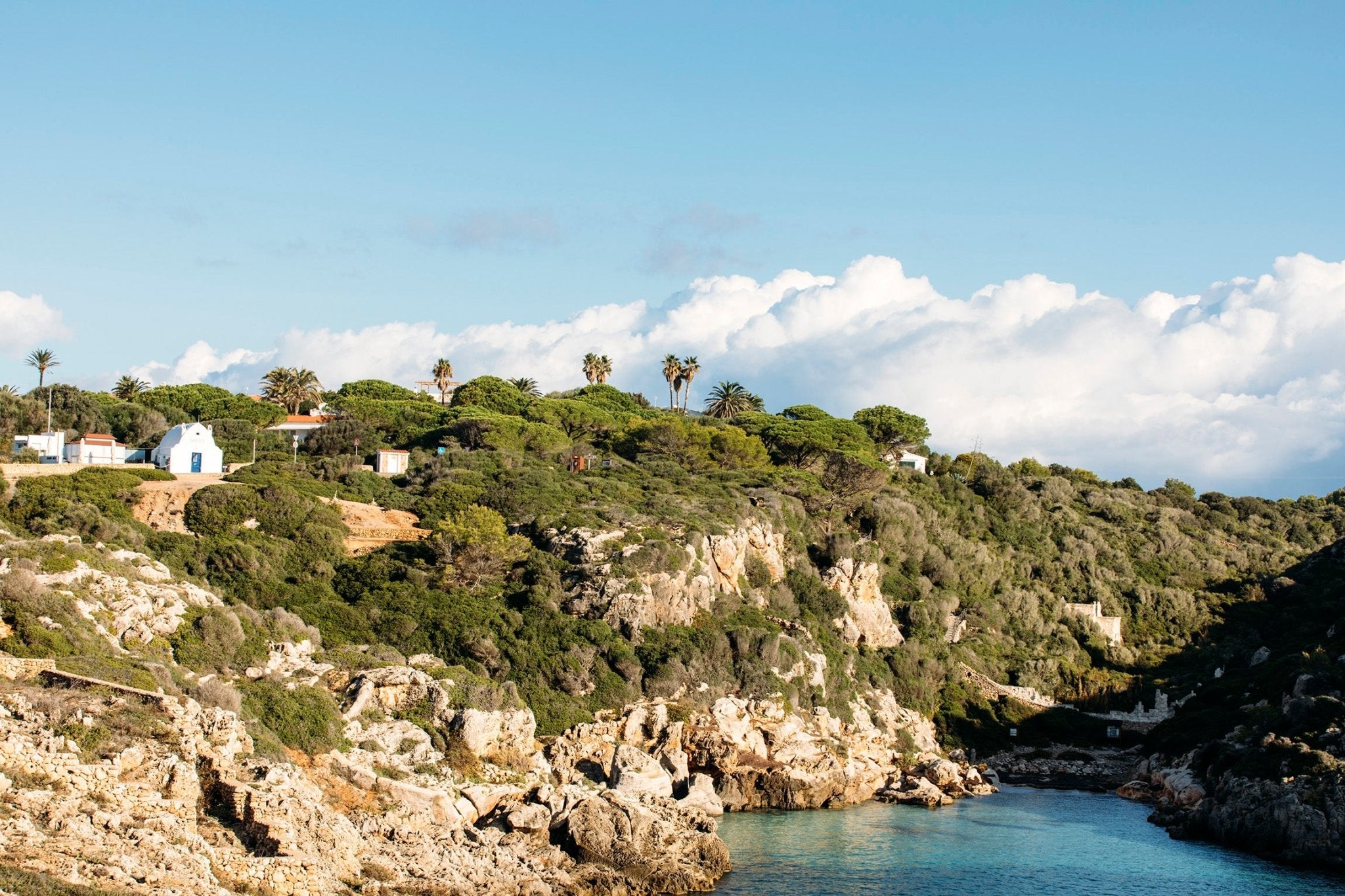 Declared a "world biosphere reserve" by UNESCO in 1993, the island can only charm you if you love nature and wide open spaces. Let us take you on board!
As soon as we arrive in Menorca, we head to Mahon, capital of Menorca located at the end of the island. We travel through the old town and along the port which is full of cafes where we can stop to observe the lively exchanges of passers-by. The fish market takes place every day, and allows you to taste tapas and grilled fish on site.
Strolling through the coastal paths, we reach Cala Binidali. This small cove nestled in the hollow of the cliffs, offers a white sand beach and crystal clear water. It's the perfect setting to put on your Sky Coral swimsuit and dive into the water.
We end this first day a little further south, at the Bambu Menorca in Binibeca, the perfect place to admire the sunset while enjoying cocktails and delicious tapas.
The next day, we stop at Menorca Experimental, a hotel that has recently opened its doors. Finely decorated in the spirit of an artist's house, discover this magical place through the photos of our shoot. Some rooms have a private swimming pool, the perfect place to relax.
A secret path takes us to the edge of the cliff whose view is just breathtaking. It really is the dream hotel to stay for a Spring weekend.
We then decide to take the hiking trails lined with dry stone walls, a real immersion in nature for our greatest happiness. A 1h30 walk takes us to the magnificent beach of Cala en Porter, where we enjoy the deserted beach in October and the turquoise water.
Finally, do not leave without having lunch in Fornells, a traditional village lined with white houses, whose specialty is lobster fishing:) In the bay is one of the most preserved marine reserves in the Mediterranean.
The Tower of Fornells offers a splendid view over the bay and the lighthouse.
Discover our new collection "Stopover in Menorca"
Subscribe to our newsletter a little further down, to continue traveling with us!
Our good addresses in Menorca:
Restaurant Trebol in Es Castell

Bambu Menorca restaurant in Binibeca

Cafe Balear in Ciutadella

Restaurant Santa Rita in Mahon

Passio Mediterrania in Mahon

Bindali Beach

Cala en Brut Beach

Marcarella Beach