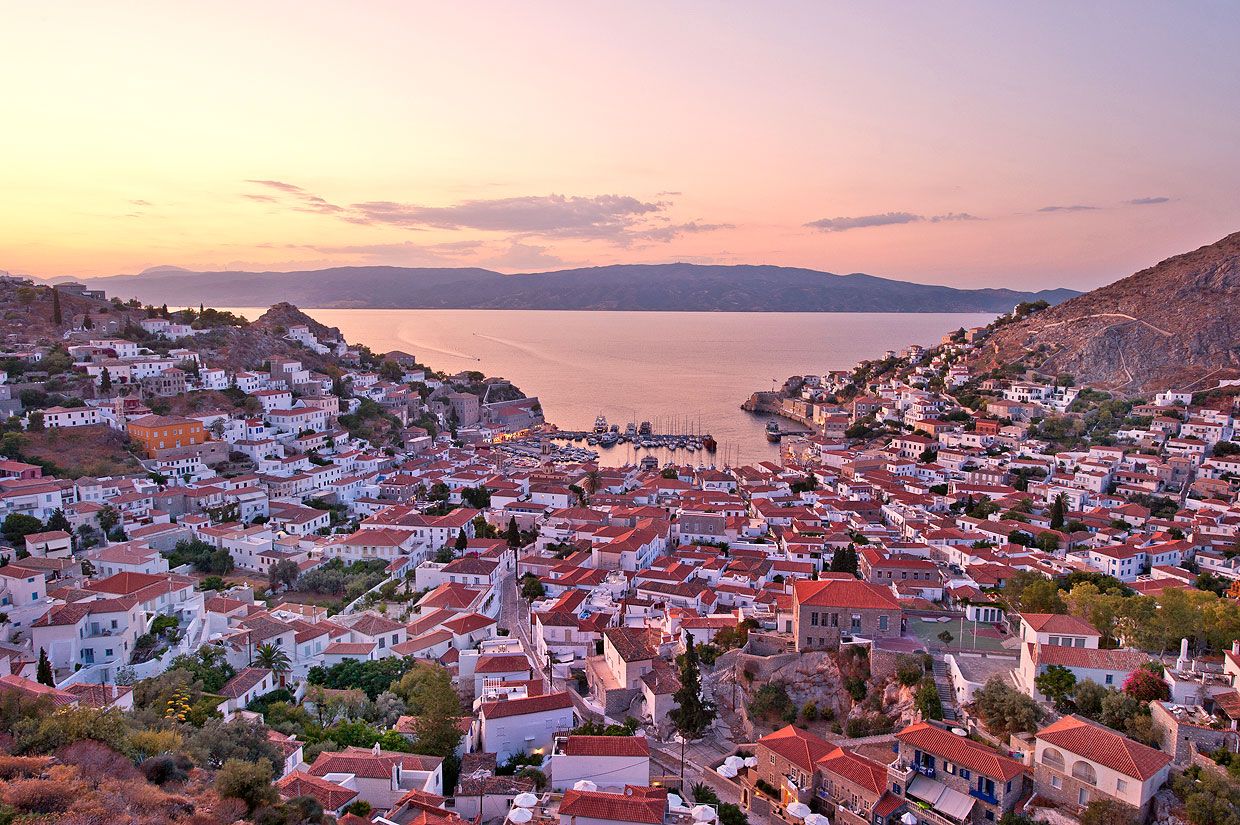 This month head to Hydra, a chic and arty stopover
Located less than two hours from Athens, this Greek island, refuge of the famous singer Léonard Cohen, is a real haven of peace and will charm you.

Arrival by boat, the small port of Hydra is considered to be the most beautiful in the Mediterranean. The white houses overlooking the sea offer us a postcard landscape. Fishermen's boats mingle with vacationers' sailboats, in a joyful and authentic atmosphere.
Motor transport having no place on the island, donkeys and mules are omnipresent and allow the transport of goods or inhabitants. This is one of the reasons why it is good to live in Greece.

Behind the port, a maze of cobbled streets shaded and flowered by the famous bougainvillea. The sumptuous white houses, heritage of the rich past of the island which sheltered many shipowners in the 18th century, contribute to the serenity of the city. Our blue Ondulations swimsuit will go perfectly with the decor.
A gourmet break is a must at the Taverne Xeri Elia or at the Paradosakio, where you can taste delicious Greek specialties.

Stop at the home of Leonard Cohen, who fell in love with the island (and Marianne) in the 60s.

Do not hesitate to enter all the small churches and chapels that will cross your path, without forgetting to pass by the Rafalia Pharmacy, a real institution of the city, transmitted for nearly 150 years, from generation to generation.

Stay at "The Olive Trees House" for a charming stay.
The next day, the day begins with a trip to sea.
The Hydra diving center will take you off the island to admire the seabed and cross paths with some dolphins.
On your return, it's time to venture on the many hiking trails. One of the most beautiful on the island allows you to go to the top of Mount Eros which offers a splendid view of the sea and to discover on the road, the Monastery of the Prophet Elias.

Before descending to Mandraki, reach its pebble beach, eat at Μανδρακι 1800 from the catch of the day.

And take advantage of the afternoon heat for a refreshing swim in our beautiful red Ondulations swimsuit.

On the way back to Hydra, admire the small Ayia Foteini chapel.
And soak up the arty and warm atmosphere of the city which is home to many art galleries.
Our addresses in Hydra:

- Airbnb The Olive Trees House
- Restaurant Tavern Xeri Elia
- Restaurant Paradosakio
- Restaurant Μανδρακι 1800
- House of Lazaros Koundouriotis
- House of Leonard Cohen
- Chapel of St Kyprianos
- St Matrona Monastery
- Prophet Elias Monastery